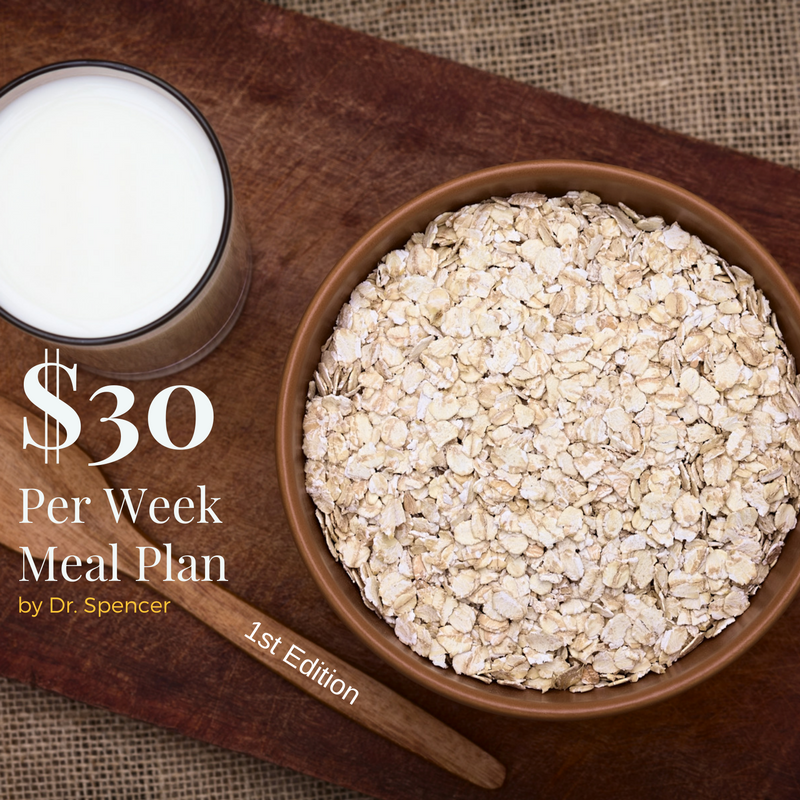 I get asked a few times a week about eating healthfully while on a budget. The usual challenge is to try to eat for about 30 bucks (29 to be exact) a week per person since that is that average given for food stamps ($1.40 per meal with 3 meals per day per person).
This isn't an easy task to do, but I figured I would try. This is my first meal plan that I came up with quickly so don't yell at me (LOL). Add these to your Go-To Meal list.
You will notice the lack of McDonald's and fast food. Save your money and health and don't eat fast food. You have to make it yourself, but it's pretty simple and easy to prep.
I will be tinkering a bit as I make these meal plans because I want to ensure meeting all vitamin and mineral requirements. This plan is around 1800-2000 calories per day, which can be ramped up or down with a few small changes.
Eggs 'n Oats Breakfast – $1.15 per meal
This is a relatively standard breakfast for many people already. Eggs and oats are among the healthiest foods you can eat. Oats being high in fiber, vitamins, minerals, and even protein, while associated with healthier levels of cholesterol. Eggs being high in protein, healthy fat, and other hard to find nutrients. Add in a touch of milk on the oats and you have a pretty good breakfast.
3 Eggs – Cooked to choice
1.5 cups of oats
1/3 cup of 1% milk to top
About 700 calories / 36 grams protein / 84 grams carbs / 12 grams fiber /26 grams fat
Chocolate Peanut Butter Banana Smoothie – $1-2 bucks per meal depending on protein
Meal replacement shakes can actually be a decent way to save money and lose weight. Protein powder can range in price but in general, it is a relatively cheap place to get quality protein. Peanut butter has healthy fat, vitamins and minerals, fiber, and even protein. Bananas are the cheapest fruits to eat and I would include them in your diet. Of course, milk is cheap as well.
2 cups of milk
1/2-1 scoop chocolate protein powder (I go with whey)
1 medium banana
2 tablespoons of peanut butter
About 600 calories / 55 gram protein / 64 grams carbs / 7 grams fiber / 18 grams fat
Yummy Turkey Chili – $1.50 per serving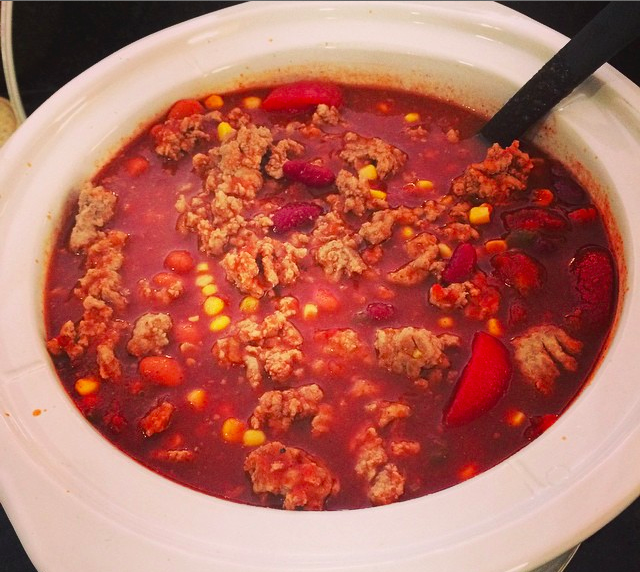 If you're not making chili at least once a month then I think you're missing out. You can jam pack a bowl full of protein, fiber, and vitamins/minerals. If you want to go completely plant-based just swap the turkey for more beans. This is also great because you can make a pot that lasts all week.
1 pounds of lean ground turkey
2-3 cans of your choice of beans
2-3 cans of stewed tomatoes
1-2 cups uncooked rice
2 cups of spicy V8 juice
Chili powder to taste
Just brown the meat then throw the rest in on medium for a while. Seriously that's it. Throw in some corn if you want too.
Per serving about 350 calories / 25 grams protein / 50 grams carbs / 8 gram fiber / 5 grams fat
Is it perfect?
No this isn't perfect. I need to incorporate more vegetables and fruits. Likely bags of apples as snacks, frozen veggies and chicken to be thrown in together, and other things. Need not worry I will keep trying 🙂